Special Event Descriptions – 2018
---
Opening Ceremonies – Large Arena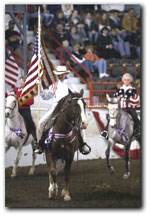 With a mix of horsemanship and patriotism, the Pennsylvania Horse World Expo will open each day with the National Anthem, flags and a thrilling display of horsemanship, featuring Taylor Hagquist singing the National Anthem Live.
Thursday……..12:10 pm
Friday………….10:10 am
Saturday………..9:10 am
Sunday………….9:10 am
Trail Champions Challenge – Equine Arena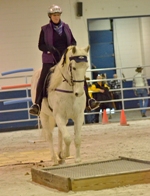 Welcome to the hottest event at Horse World Expo, the Trail Champions Challenge.  In the Challenge, amateur, youth, novice and professional riders and their horse compete for cash and prizes by negotiating an exciting course of obstacles while being timed and scored by a panel of judges. Randy Byers of Hybrid Horsemanship has professionally designed the 2018 course which will challenge the communication and trust riders have with their horse. Watch as Horse World Expo crowns the next Trail Champion! MORE INFO
Saturday……9:00 – 11:00 am
Rescued to Stardom
The NEWEST event at Horse World Expo, follow the journey of 7 rescue horses and their trainers as they go from unbroke to Stardom at Horse World Expo.  Their scores count on YOU!  Vote for your favorite Star on our FACEBOOK page.  Each horse will then compete live on Friday in an in-hand freestyle and Saturday in a ridden freestyle.  While each horse will be competing for cash and prizes, EVERY horse is a winner as they will be available for adoption through their respective 501c3 rescues after the event. MORE INFO

Friday………….10:10 am
Saturday……….2:00 pm

Parade of Breeds – Equine Arena
Exciting and educational demonstrations highlighting the versatility and beauty of the equine. The Parade of Breeds demonstration will feature various breeds to be shown throughout the weekend including: Australian Stock Horse, Cleveland Bay, Fjord, Friesian, Gypsy Vanner, Haflinger, Mountain Horse, Paso Fino, Quarter Horse, Thoroughbred, Tennessee Walking Horse, Chincoteague Pony, Miniature Horse, various Draft Horses, Highland Pony and more. See the Breed Demo Schedule so you can be sure to catch your favorite breeds in action.
For a schedule of times for each breed CLICK HERE
Equi-Tainment! A Musical Equine Variety Show – Equine Arena
Come watch this entertaining segment of Horse World Expo highlighting the best of the best. Featured performances include drill teams, freestyle dressage, western dressage, tricks, bridleless riding and other exciting displays of horsemanship!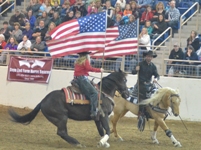 Thursday…..2:00 pm
Friday……….2:00 pm
Saturday……4:00 pm
Sunday……..2:00 pm
Stallion Avenue Demonstration – Equine Arena
Stallion Avenue features the region's top stallions. A variety of breeds will be represented. Each stallion will be shown in the arena each day.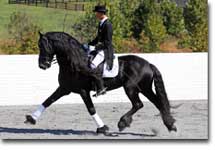 Thursday….4:00 pm
Friday………1:00 pm
Saturday…..3:00 pm
Sunday……11:00 am
For a schedule of times for each stallion CLICK HERE