Plan to Join us
on January 19 – 21, 2018

Booth space is available – We are now accepting Applications
---
A Retail Show and Sale
Horse World Expo is a Super Market of Equestrian Related Products and Services for the Maryland, Virginia, Pennsylvania, New Jersey, Delaware and District of Columbia buyer. Patrons spend hours and visit every booth You can do more business in four days at Horse World Expo than in months of waiting for customers to come to your place of business. You can marshal your sales efforts at one time, in one place and maximize your sales impact by bringing your newest products/services and your best sales staff to represent you at the show. The floor plan has been thoughtfully prepared with optimal access to all vendor booths by buyers. Vendor space will be limited by category, and no booths will be sold within a particular category after the pre-determined limit has been met. We believe this allows each vendor maximum sales and exposure. The net results will be more sales actions.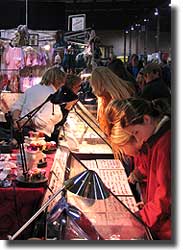 2018 Booth Rates and Set Up Information
Single 10 x 10
$ 525
Each Add'l 10 x 10 (2nd – 4th booth)
$ 475
Each Add'l 10 x 10 (5th – 8th booth)
$ 425
Each Add'l 10 x 10 (9th – 12th booth)
$ 375
Each Add'l 10 x 10 (13th booth and up).
$ 325
Tack Booth Space over 1500 square feet
$ 3.25/sq ft
Corner Booths – additional
$ 75
10 x 20 End Cap
$ 1200
Non-Profit Group 10 x 10 *
$ 250
Stallion Avenue booth and stall
$ 525
Stallion Avenue additional stall only
$ 400
Breed Row booth and stall
$ 250
Bulk Space up to 1900 square feet
$ 2.20/sq ft
Bulk Space over 1900 square feet
$ 1.95/sq ft
Your Time is Valuable
You don't have to be an exhibit professional to benefit from the show. In fact, you don't have to spend your time in exhibit administration at all. You can spend your time on the single most important show activity, selling your product or service.
Show Advertising and Promotion
Each exhibitor can count on show promotion and publicity to bring buyers to the show! An intense advertising and promotion program will bring the show message to horse enthusiasts in five states and the District of Columbia.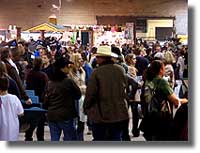 Maryland State Fairgrounds – the Show Facility
The Maryland State Fairgrounds in Timonium is ideally located just north of Baltimore on Interstate 83 (Exit 17). Within a 90 minute drive from Baltimore, Philadelphia, Washington DC, and northern Virginia, it is recognized as one of the East Coast's foremost show places and is home of the popular Maryland State Fair. This large, well lit facility is easily accessible to exhibitors by numerous overhead doors. The speed and ease of a hassle free set up and break down are facilitated by the availability of dozens of exhibitors being able to load and unload at the same time. Exhibitors and their staff may load and unload their own vehicles.
Stallion Avenue
One of our most popular attractions, Stallion Avenue allows stallion owners to showcase their horse to a large number of prospective mare owners at one time. Each Stallion Avenue space includes a stall on the show floor and an adjoining 10 x 10 display area. It also includes a stall in the outside barns in the evening and 2 bales of bedding in each stallion stall. Each stallion will be shown individually in the arena each day of the show during our "Stallion Avenue" demonstrations. These demonstrations allows 2-3 minutes per stallion. Don's miss out on this one of a kind opportunity to promote your stallion.
Breed Row
Breed groups have an opportunity to showcase their breed on the show floor of Horse World Expo. Your Breed Row space includes a 10 x 10 display area, a stall adjoining your display, one stall in the barns and two bales of bedding. You will also be invited to participate in the "Parade of Breeds" demonstration held multiple times throughout the weekend. This is a wonderful opportunity to show the public what your breed is all about. Sorry, no product can be sold from a Breed Row booth. Only spaces designated on the floor plan as "Breed Row" can be used for this purpose and participants must be a not-for-profit organization. Spaces are limited.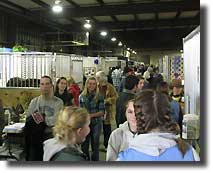 Non Profit Group Area
We have now made it more affordable for non-profit clubs and organizations to be involved in Horse World Expo. We have created an area in the Exhibition Hall which will allow groups that are not-for-profit to introduce their group to tens-of-thousands of patrons from around the region. This is a great solution for horse rescues, riding clubs, breed groups, etc. Come show what your group is all about! Your booth space includes a 10 x 10 display area. Sorry, no product or commercial ventures can be sold or advertised from a these booths. Proof of not-for-profit status must be provided, all booth regulations apply and spaces are limited.
Promotions Company and Show Staff
Equestrian Promotions, Inc. was founded to promote the equestrian industry through retail trade shows. Our shows proudly offer something for every horse enthusiast. Every detail has been thoroughly researched and planned to provide maximum response for our vendors and enjoyment for our spectators. We make it a top priority to listen to our vendors before, during and after the show.
Equestrian Promotions, Inc. is headed by a team of knowledgeable professionals with combined experience of over forty years of retail trade show productions and over fifty years in the equine industry.
2018 Show Schedule
Installation and Setup:
Wed      Jan 17     Decorator set up and trailer move-in, times will be assigned
Thurs    Jan 18     8:00am to 8:00pm
Fri         Jan 19     8:00am to Noon
Vendors should arrive no sooner than Thursday morning to set their booths, overnight camping for vendors is available starting Thursday evening.
Show Hours:
Fri     Jan 19    Noon to 8:00pm
Sat    Jan 20    9:00am to 7:00pm
Sun   Jan 21    9:00am to 5:00pm
Vendors will be allowed into the show for set up 1 hour prior to the doors opening to the public.
Dismantling and Exhibit Removal:
Sun   Jan 21   5:00pm to 11:00pm
Mon   Jan 22   8:00am to 11:00am
All vendors are required to remain set up until close of the show, all displays must be removed no later than Monday 11:00am.
---
Booth space is available – We will begin accepting applications after July 21st.